Events
Love is the Way
A Lenten Study based on the book by Bishop Michael Curry
Begins February 22 – 7 sessions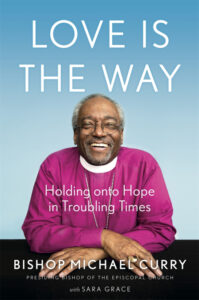 You might have been introduced to Bishop Michael Curry at the royal wedding of Prince Harry and Meghan Markle. His preaching was electrifying. It was about the power of love to change the world.
This past year has revealed how fractured we are as a nation. There have been many small acts of generosity to be sure, and the service of our health care and front-line workers has been astounding.
And yet, the overall narrative has been one of enemy: you against me, cancel culture. Are you tired of it? I know I am. We have been short on grace, compassion, and kindness. I long for a world where we take the time to not just talk at one another, but truly listen to each other, see each other, and remember that we are all beautiful, beloved children of God worthy of love and belonging.
One person at a time, living the way of love, becomes a movement. This is what the Jesus movement looks like. Or, to put it in reverse, as Bishop Curry said: "If it doesn't look like love, if it doesn't look like Jesus of Nazareth, it can't be claimed as Christian." Because how do you know a Christian? By their love! Looking forward to a loving Lent with you as we lean into "Love Is the Way."
Study: Love is the Way
Host: Pastor Paul Woolverton
Location: Online-Zoom
Day/Time: Monday, Feb. 22 – Introduction – 6:30 pm
Then Wednesdays, beginning Feb. 24—6:30 pm
If a book is desired, the cost is approximately $18.
Order through Cokesbury.com or Amazon.com
Book is encouraged as videos guide book
discussions.
If a book is desired and personal funds are already stretched, we'd be happy to help, just let us know and we'll do what we can to help with a book.