Events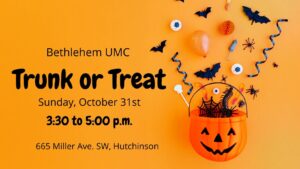 TRUNK OR TREAT
Sunday, October 31 3:30-5 pm
Join us on Halloween for Trunk or Treating!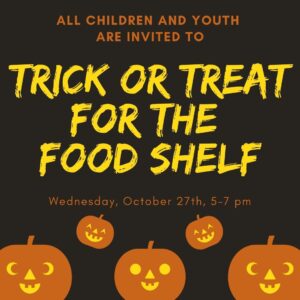 TRICK OR TREAT FOR THE FOOD SHELF
Join with other area youth and Trick or Treat for the Food Shelf on Wednesday, October 27th. We will meet at Bethlehem at 5 pm and walk around the neighborhood, gathering donated food and supplies. After dropping those off at St. A's, we will return to the church for a pizza party!
Adult volunteers are needed to drive. Please message us if you are available!
JAM (Jesus and Me)
All elementary students are invited to join us on Wednesdays after school to grow in faith during our JAM lessons.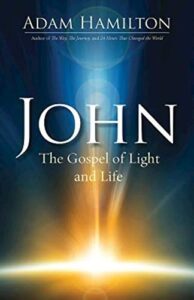 JOHN: THE GOSPEL OF LIGHT AND LIFE
Tuesdays at 7 PM: September 7, 14, 21 – October 19 & 26 – November 2
If desired, student book is available through Cokesbury for $7.99
The Gospel of John is the most deeply spiritual of the four gospels. This writing is filled with rich images and profound truths, but John notes that his aim in writing the gospel is that readers will not only believe in Jesus Christ, but that they "may have life in his name."
Join Adam Hamilton in exploring the major themes of the Gospel of John. In this six-week study, Hamilton considers questions of life, reality, and truth. He explores what Christians believe, why they believe it and why it matters. Adults, youth, and children can experience a season of life-changing renewal in Adam Hamilton's six-week, DVD-series, John: The Gospel of Light and Life.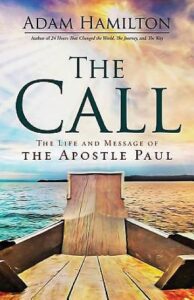 The Call: The Life & Message of the Apostle Paul
Sundays at 7 PM: September 12 & 19 – October 17 & 24 – November 7 & 14
If desired, student book is available through Cokesbury for $5.99
Walk beside the great Apostle from the road to Damascus to the sun-drenched lands of modern-day Greece and Turkey to a Roman prison.
Go with Adam Hamilton as he follows the journeys of Paul in this six-week DVD study about Christianity's greatest teacher and missionary. You'll see exactly where some of the most dramatic events in the spread of Christianity took place, and through Hamilton's insightful and colorful teaching style, you'll quite likely gain a better understanding of Paul's missionary travels than if you had covered the many miles in person.
Join Zoom meetings
https://us02web.zoom.us/j/8594601392?pwd=ZDI3bjh3VTFtUWZ6ZzRVbHNzMEdOZz09
Meeting ID: 859 460 1392
Passcode: 55350