Events
Alpha

An Opportunity to Connect & Explore
Mondays at 7:00 pm
Begins February 1st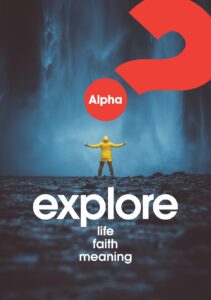 Would you like to connect with others interested in
exploring life's big questions? You're invited to Alpha!
What is it?
Alpha is a series of sessions exploring Christian life, faith, meaning, and our relationship with God. Each session involves an engaging talk designed to spark conversation. Alpha is run all around the globe, and everyone is welcome.
When is it?
We will be hosting an online Alpha on Monday evenings at 7:00 pm, beginning on February 1st. Why not try out the introductory session!
Who's it for?
Alpha is for anyone interested in exploring some of life's big questions. Why are we here on earth? What does God have to do with my daily life? Sessions are designed to encourage conversation and explore the Christian faith in a friendly, open and informal environment.
How does it work?
Alpha is a series of sessions, over 11 weeks. Each session includes a short talk and a discussion at the end where you can share your thoughts.
How much is it?
It's free! There's no charge to participate.
How do I sign up?
The link to sign up is at https://alphausa.org/try. Just enter Hutchinson, MN, and you'll be brought to the Bethlehem group.
Love is the Way
A Lenten Study based on the book by Bishop Michael Curry
Begins February 22 – 7 sessions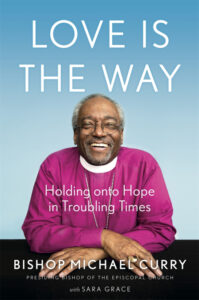 You might have been introduced to Bishop Michael Curry at the royal wedding of Prince Harry and Meghan Markle. His preaching was electrifying. It was about the power of love to change the world.
This past year has revealed how fractured we are as a nation. There have been many small acts of generosity to be sure, and the service of our health care and front-line workers has been astounding.
And yet, the overall narrative has been one of enemy: you against me, cancel culture. Are you tired of it? I know I am. We have been short on grace, compassion, and kindness. I long for a world where we take the time to not just talk at one another, but truly listen to each other, see each other, and remember that we are all beautiful, beloved children of God worthy of love and belonging.
One person at a time, living the way of love, becomes a movement. This is what the Jesus movement looks like. Or, to put it in reverse, as Bishop Curry said: "If it doesn't look like love, if it doesn't look like Jesus of Nazareth, it can't be claimed as Christian." Because how do you know a Christian? By their love! Looking forward to a loving Lent with you as we lean into "Love Is the Way."
Wed., Feb. 17: Ash Wednesday
Mon., Feb. 22: Intro Rev. Cindy Gregorson & Jody Thone
Wed., Feb. 24: Chapters 1 & 2 with Rev. Laurie Kantonen
Wed., Mar 03: Chapters 3 & 4 with Rev. Fred Vanderwerf
Wed., Mar 10: Chapters 5 & 6 with Rev. Cynthia Williams
Wed., Mar 17: Chapters 7 & 8 with Rev. Dan Johnson
Wed., Mar 24: Chapters 9 & 10 with Rev. Susan Nienaber
Wed., Mar 31: Chapters 11 & 12 with Rev. Ben Ingebretson
Study: Love is the Way
Host: Pastor Paul Woolverton
Location: Online-Zoom
Day/Time: Monday, Feb. 22 – Introduction – 6:30 pm
Then Wednesdays, beginning Feb. 24—6:30 pm
Cost: Approx. $18.
Order through Cokesbury.com or Amazon.com
Book is encouraged as videos guide book
discussions
Making Sense of the Bible (begins Jan. 06 – 6 sessions)
Host: Pastor Paul Woolverton
Location: ONLINE (Zoom)
Day/Time: Wednesday evenings 6:30 pm – 7:45 pm
Cost: Book is approx. $15.00 or less through Cokesbury.com or Amazon.com
In Making Sense of the Bible, Adam Hamilton invites us into an honest conversation about the Bible while considering the real questions people frequently ask that continue to divide Christians and denominations alike, including:
Were Adam and Eve real people?

Why is God so violent in the Old Testament?

Why would Paul command women to "keep silent in the church"?

Is Jesus the only way to salvation?

How does God view gay people?

Is the Book of Revelation a guide to the End Times?

In approachable and inviting language, Hamilton addresses these often-misunderstood biblical themes. The journey leads readers to a deeper appreciation of the Bible so that we might hear God speak through it and find its words to be life-changing and life-giving.
Once you register, you will receive full information for connection to the zoom meetings in their "welcome to the group" email. Join us!
Text in Depth – Bible Study with a Pastor
(Begins Jan. 05 – 10 weeks)
Host: Pastor Paul Woolverton
Location: ONLINE (Zoom)
Day/Time: Tuesday evenings 6:30–7:45 pm
You're invited to join a weekly small group for scripture study and reflection, hosted by Pastor Paul Woolverton. Invite your neighbors and friends for a rich conversation exploring God's Word for us in the days we are living in. This group will be for 10 weeks, then take a short break before offering a new cycle, so no problem if you miss a week here or there, just join as you are able.
If you would like to receive the scripture texts prior to the night of the study, please email Pastor Paul Woolverton, pwoolverton1@gmail.com at least a week prior to the start date. Information to join the study is listed below.
Join Zoom Meeting https://us02web.zoom.us/j/8594601392?pwd=anZnRWVwTkVhQVlSNDNYM0NZUXRlUT09
Meeting ID: 859 460 1392
Passcode: 3twX7v