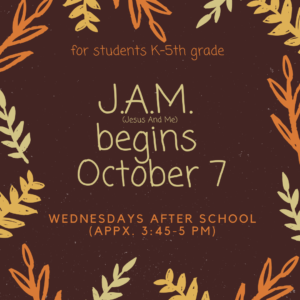 JAM (Jesus and Me) begins Wednesday, October 7.
Students in grades K-5 meet Wednesdays after school to enjoy snacks, fun and faith. JAM is fun with a purpose. Our goal is to promote children's spiritual growth and friendships.
We need two forms completed for all participants:
Transportation: In the past, we have secured bus passes so children who don't live in our neighborhood could get dropped off for JAM on Wednesdays. Unfortunately, that is not the case this year, given the restrictions with bussing. If your child needs to be picked up from school to come to JAM, we are happy to transport your child. Please contact the church if you need transportation.
Safety: We will wear masks during times together (especially while inside), and maintain social distancing. If children need to be home due to quarantine or other reasons, we can arrange for them to participate digitally. Please keep children home if they display any signs of illness.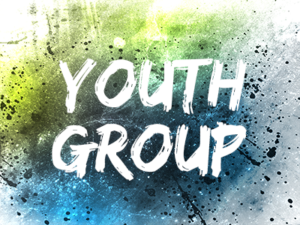 We're partnering with Vineyard UMC to host fun and faith-building activities.
Twice per month on Sunday evenings from 6:00 pm to 7:30-8:00 pm.
Youth Group kicked off on S'mores Sunday (September 13th)
Stay tuned for activities the offer faith, fun, and friendship!
Confirmation Study
Please be in prayer for our confirmation students as we begin this year together learning and growing in our faith. If you would like to be a prayer partner/mentor to an individual student, please contact Pastor Stefanie.