Stations of the Stable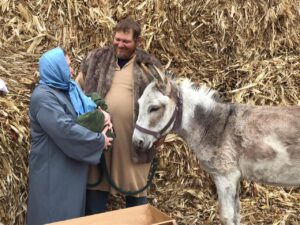 STATIONS OF THE STABLE
As a gift to the people of our community, we will present the Stations of the Stable on Sunday, December 20. Many volunteers are needed as we share the celebration of Jesus' birth with a world desperately in need of the joy of Christ.
Join for this live, outdoor nativity. Drive through from 4:00 pm to 6:30 pm. There will be a petting zoo, door prizes, hot cocoa and more.
According to Shyann Topel,"You will experience the birth of Jesus before your eyes. You're in Bethlehem. You can see and smell the animals. You can touch them as the experience touches you." Shyann says: "More than ever, people need to connect with God. Stations of the Stable is a super-cool way to do it!
CAN YOU HELP?
Many hands make light work. Do you know someone with talents in these areas?
WOULD YOU LIKE TO BE A SHEPHERD OR ANGEL?
We have costumes for children and adults!

1st shift from 3:45-5pm,
2nd shift from 4:45-6:30pm
DO YOU LOVE CHRISTMAS CAROLS?

Carolers: The carolers would sing intermittently from 3:45-6:30pm.

DO YOU HAVE THE GIFT OF HOSPITALITY?

Hospitality Crew is needed for the Welcome Table, Gift Table, and Greeters inside church

1st shift from 3:30-5pm
2nd shift from 4:45-6:30pm

DO YOU LIKE TO SERVE ?

Hot Chocolate: 4 volunteers will alternate between serving outside and making the beverages inside. 3:30-6:30pm

DO YOU LIKE BUILDING OR DECORATING?

Build or paint: Leading up the event, we need help making wooden signs and painting.
Set Up: We need 10 volunteers to arrive at church at 12:30pm that day to help get the stations set up.

DO YOU LIKE TEARING STUFF DOWN?

Take Down: We need 5 people to be ready at 6:30pm to take down the stations and bring all materials into the church.

ARE YOU A TAKE-CHARGE PERSON?

Traffic Control: 3 people to serve in each shift.

1st shift from 3:45-5pm
2nd shift from 4:45-6:30pm
ITEMS NEEDED TO BORROW
Please, we need to borrow these items from you for this event. Place your name and number on the borrowed item(s) so they can be returned to you. All your borrowed items would need to be at church by December 15th please.
10 outdoor electric cords that are a minimum of 50ft.
9 power stripes
15 of some kind of spot lights
10 Carpet Remnants used outside at the stations
1 Portable fire pit
10 Patio Heater/Propane heaters
5 strands of white Christmas Lights
Baby doll representing baby Jesus
1 10ft x 10ft Event Tent with sides
There are a number of projects involving 1) making wooden signs, 2) painting, 3) putting together gift bags that will need to happen before the event. If you have interest in helping with one of these areas, please contact Pastor Stefanie Morgan.